Courtroom Murals: Images of New Deal Era Art from Coit Tower
Presented on March 3, 2020

at the Phillip Burton Federal Building & United States Courthouse
San Francisco, California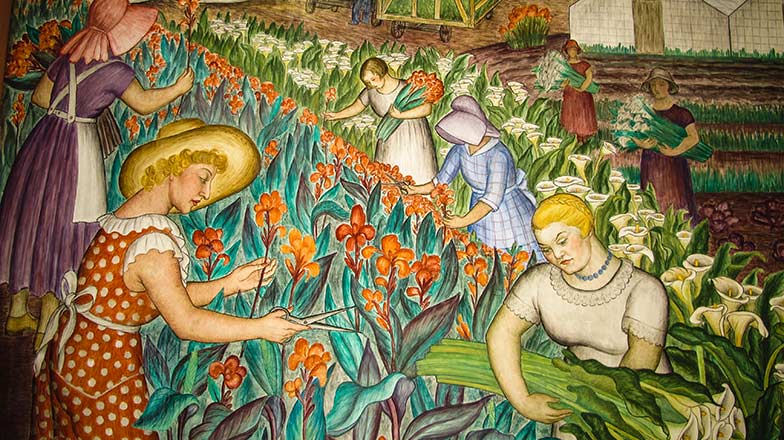 Spectacular images of Coit Tower's famous murals now grace the courtrooms of the U.S. District Court in San Francisco. Hallway display cases feature miniature reproductions, along with the story behind each mural and a biography of the artist who created the original. Panelists discussed the legacy of the New Deal era artworks and the development of the courtroom mural project.
The Coit Tower murals were the first major artworks commissioned under the Public Works of Art Project (PWAP), a component of the New Deal initiated by President Franklin D. Roosevelt in 1933 as a way for the government to ease social problems caused by the Great Depression. The intent was to provide economic relief, leading to recovery and reform. The seven-month PWAP funded 3,750 artists at wages of $38-$46 per week. Many of the artists chose the artistic approach of Mexican muralist Diego Rivera, expressing themselves in the style known as Social Realism. This movement often made bold social and political statements, sometimes perceived as being critical of the challenges of the Depression years.
The Coit Tower murals are traditional frescoes. Images were produced for our courtrooms using high-resolution photography, and the final prints were made on bamboo-fiber paper which has an optimal textural nuance for emulating the finish of the fresco method. Specialized theatrical LED lighting brings the murals to life with a trompe l'oeil realism, as if they were windows to the outside world.
Moderator
Hon. Charles R. Breyer
U.S. District Judge, Northern District of California
Panelists
Hon. William Alsup
U.S. District Judge, Northern District of California
Gray Brechin, Ph.D.
Architectural Historian
Bennett Hall
President, Business Image Group;
Courtroom Mural Project Manager and Photographer
York Kennedy
Commercial Lighting Designer and Consultant