Remembering Judge Charles Renfrew

(1928-2017)
Presented on September 17, 2018

at the Phillip Burton Federal Building & United States Courthouse
San Francisco, California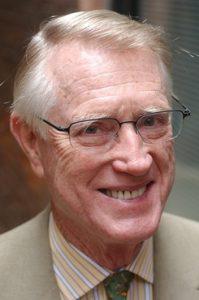 Esteemed for his love of justice and the law, Charles Byron Renfrew served as a United States District Judge for the Northern District of California from 1971 to 1980. He was known to visit prisons to assess the conditions, and he routinely followed up with caseworkers, probation officers, and inmates to make sure that the facilities were safe.
Judge Renfrew left the bench when he was appointed U.S. Deputy Attorney General by President Carter. In this role, he defended the Department of Justice against accusations of favoring Cubans (who had a direct path to citizenship thanks to The Cuban Adjustment Act of 1966) over Haitians in the Caribbean refugee crisis of 1980.
Returning to California, Judge Renfrew became vice president and general counsel for Chevron Corp., holding that office for over a decade before re-entering private practice. He gave back to his community by serving on the boards of the NAACP Legal Defense and Education Fund and the Lawyers Committee for Civil Rights, among others.
Moderator
Hon. Edward M. Chen
U.S. District Judge, Northern District of California
Speakers
Toni Rembe, Esq.
Pillsbury Winthrop Shaw Pittman LLP
Harvey Hinman, Esq.
Pillsbury Winthrop Shaw Pittman LLP and Chevron Corp.
Michael Rubin, Esq.
Altshuler Berzon, LLP
Guy Saperstein, Esq.
Formerly of Saperstein Goldstein Demchak & Baller
Sherrilyn Ifill
President and Director Counsel
NAACP Legal Defense and Educational Fund, Inc.
John Keker, Esq.
Keker, Van Nest & Peters LLP