Remembering Judge Samuel Conti
(1922-2018)
Presented on March 6, 2019

at the Phillip Burton Federal Building & United States Courthouse
San Francisco, California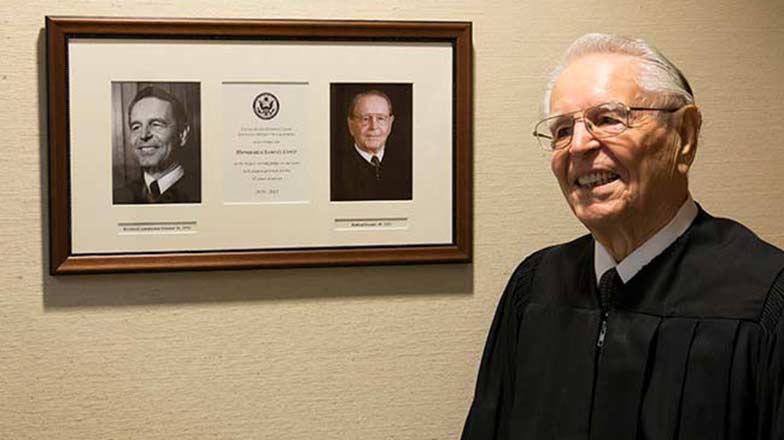 The longest-serving judge in the history of the Northern District of California, Samuel Conti was appointed by President Nixon in 1970 and marked his 45th year on the bench in October 2015. He retired shortly thereafter and passed away in August 2018.
Judge Conti was a U.S. Army veteran of World War II. He earned his bachelor's degree at the University of Santa Clara in 1945, and his LL.B. from Stanford Law School in 1948. He was in private practice in San Francisco from 1946 to 1967, then served on the Contra Costa County Superior Court from 1968 until his appointment as a federal judge.
During his remarkable career on the federal bench, Judge Conti was known for tough views on criminal sentencing and his efficient manage-ment of complex civil disputes. Among the many notable cases he oversaw were the conviction and sentencing of Sarah Jane Moore for the attempted assassination of President Ford, the nine-month racketeering trial of members of the Hells Angels, and a highly publicized copyright infringement trial that included a live musical performance by John Fogerty of Creedence Clearwater Revival. Although Judge Conti took senior status in 1987, he continued to handle an active caseload until his retirement.
Moderator
Hon. Stephen P. Freccero
Judge of the Superior Court, County of Marin
Contributors
Hon. Phyllis J. Hamilton
Chief U.S. District Judge, Northern District of California
Hon. Vaughn R. Walker
U.S. District Judge (Ret.), Northern District of California
Hon. Robert L. Dondero
Justice (Ret.), California Court of Appeal (First District)
Pam MacLean
Journalist, Bloomberg News