Remembering Judge William W Schwarzer
(1925-2017)
Presented on September 12, 2017

at the Phillip Burton Federal Building & United States Courthouse
San Francisco, California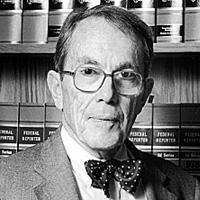 William W Schwarzer was one of the most accomplished and influential jurists to serve on the Northern District. Judge Schwarzer was appointed to the court in 1976 and retired more than 30 years later, in 2009. As a judge and scholar, he shaped modern federal civil procedure as few others have. Judge Schwarzer wrote extensively on the importance of strong federal judicial case management, as well as on other significant topics in federal civil procedure, particularly the use of summary judgment motions. He was perhaps most widely known as an author of The Rutter Group Practice Guide,
Federal Civil Procedure Before Trial.
As director of the Federal Judicial Center from 1990 to 1995, he oversaw the publication of important works on complex litigation, scientific evidence, and summary judgment.
In 2004, Judge Schwarzer received the judiciary's highest honor, the American Judicature Society's Edward J. Devitt Distinguished Service to Justice Award, which recognized him as a "brilliant, distinguished, compassionate servant of the law."
Speakers
Members of the bench
and of the legal community